Women in the Trades
Ginny Baxter, Program Vice President
February 1, 2020
AAUW has been empowering women as individuals and as a community since 1881. For more than 130 years, we have worked together as a national grassroots organization to improve the lives of millions of women and their families. Years ago most women were relegated to careers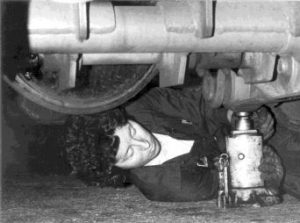 as teacher, nurse or secretary. Today there are so many more choices including positions in the Trades. Our Branch meeting program for February features a panel of women who will tell their career stories. We will hear from Vivian Malauulu, a longshoreman; Bridgett Lewis, Manager of Security Operations at the Port of Long Beach; Robin Thorne, founder of DemoChicks, and Jennifer Caveness, a construction consultant.
Vivian Malauulu is the first Latina elected to the Long Beach Community College District Board of Trustees. She was a journalism professor at LBCC, and today she is the board's current president. Bridgett D. Lewis, Manager of Security Operations at the Port of Long Beach, has a dual role: She oversees security operations at the nation's busiest seaport, as well serving as the
Director of the Central California Maritime Coordination Center (MCC). Robin Thorne founded DemoChicks, a non-profit which encourages young women to consider a career in the construction, engineering, building, and demolition industries. Jennifer Caveness has nearly 25 years of hands-on experience in all facets of the construction and real estate industry.
Please join us for this informative and rewarding Program. Bring your daughters
and grandaughters! See you at the Golden Sails Inn on Saturday February 1.