Valarie Armstrong, Chair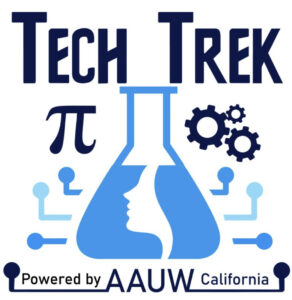 Tech Trek is a one-week residential summer camp for rising eighth graders which was founded in 1998 with start-up funds from an AAUW Educational Foundation Community Action Grant. The camp was designed to encourage young women to continue studying science and math in middle school and beyond. An AAUW Educational Foundation research report, "Shortchanging Girls, Shortchanging America," indicated that young women tended to drop out of these courses during the middle school years.
Each campership is paid by AAUW Long Beach through donations from its members.  If you would like to make a tax-deductible contribution for Tech Trek, please email AAUW Long Beach at AAUWLongBeach@gmail.com for more information.
Tech Trek's goals are:
to encourage young women of all backgrounds who are entering 8th grade to take math and science courses each year throughout high school
to motivate these students to attend college
to inspire young women to consider careers in science, technology, engineering or math
The selection process begins with the Tech Trek committee identifying Title I schools in the Long Beach Unified School District for candidates.  The school's principal is then notified of the program and requested to provide the name(s) of science and/or math teachers who would act as a focal point.  The teacher then recommend girls who would benefit from our camp.  The girls are requested to write a two-page essay detailing why they would like to attend our camp.  The committee members interview the nominated girls.  We then meet to determine our nominees and alternatives for camp.
January 2023
Celebrating 25 Years of Tech Trek
Valerie Armstrong, Tech Trek Branch Coordinator
AAUW Long Beach we honored former Tech Trek campers and their parents at the LBCC Planetarium on Saturday, January 7th, from 10:00 a.m. – noon. The Planetarium was a perfect setting for an event that celebrates young women who are interested in STEM fields. Many thanks to Ginny Baxter for obtaining this wonderful venue!
Our branch has sent 96 young women to Tech Trek since 1998. This would not have been possible without the generous donations from our members. The January 7th meeting was our Annual Tech Trek Fundraiser, and we hope to send 12 students to camp at UCSB or Whittier College this summer. The price of attending camp is expected to go up this year. UCSB is asking for $1150 per camper and Whittier College is requesting $1200 per camper. This is a price increase of $250 – $300 per camper, so donations are very important this year.
If you would like to donate, checks should be made out to: AAUW – CA SPF with Tech Trek Long Beach on the memo line. By donating to the SPF fund, your donation will be tax deductible. Checks should be mailed to Tech Trek Treasurer Linda Patten.
Tech Trek is a unique opportunity for middle school girls to experience a week of college life while participating in hands-on STEM lessons and activities. We should be proud of our branch for providing this opportunity to 96 deserving students since 1998.  For more information, please contact Valerie Armstrong.

The Long Beach Grunion Gazette Article can be found HERE.
September 2022
After a two-year hiatus, Long Beach student experienced wonderful programs onsite at UC Santa Barbara and Whittier College. Three students from Muir Academy and two students from Hamilton Middle School completed a lengthy application process, which included proof of vaccination and a negative COVID test upon arrival at camp. All five had an unforgettable experience and wrote about their favorite activities in thoughtful thank you notes.
Campers at Whittier College took project-based classes in Biology, Architecture, Anatomy, Computer Science, and ­­­­­­Forensic Science. Following their classes, they attended workshops on Polymers, Paleontology, and the Science of Cosmetics. Field trips included the Columbia Memorial Space Center in Downey and a cadaver lab in Whittier.  Activities continued into the evening with career presentations from professional women and college readiness information. Camp Director Judy Pfeil and her assistant, branch member Tobi Balma, did an outstanding job of organizing these programs.
Students who attended the UC Santa Barbara camp attended classes in Aerospace, Robotics, and Forensic Science. Field trips included a boat excursion where the students saw pods of dolphins.
Although AAUW Long Beach approved nine students for Tech Trek, three could not meet the vaccination requirement and one experienced the death of a grandparent shortly before camp. The vaccination requirement was clearly stated in the application and discussed in the students' interviews.
The Tech Trek Committee will begin contacting schools by the end of September. We're looking forward to selecting our next group of outstanding campers.
Thank you letters from our Campers:
September 2021 
As a result of concerns regarding COVID-19 and the impact of directives from national, state and local leaders, AAUW California held a virtual Tech Trek program this summer.
AAUW Long Beach invited 18 students from Muir Academy and Hamilton Middle School to attend the virtual program. These students were recommended by their science or math teach- ers. The students from Muir Academy were selected for Tech Trek in 2020, but the camp was cancelled due to COVID-19. Of those 18 students, two students persevered through the online application process and attended the 5-day camp, which was conducted via Zoom.
The camp was centered on a morning project-based robotics/engineering/coding class that met daily. After lunch, the campers heard from inspirational women for an hour, then participated in one or more 90-minute interactive science, technology, engineering, and math work- shops. They had the option to return for evening workshops which in- cluded social activities or parent sessions.
Genesis Hernandez, an 8th grader at Muir Academy in West Long Beach, enjoyed the virtual program. "I think my favorite thing about Tech Trek had to be the guest speakers. I loved how they talked about their struggles and how they overcame them without giving up."