Frances Magarian Scholarship
Established in 2013 from monies bequeathed to the Branch from Frances Magarian, the AAUW Long Beach Frances Magarian Scholarship awards two scholarships of $2500 each to two recipients from California State University, Long Beach (CSULB) and two scholarships of $500 each awarded to two recipients from Long Beach City College (LBCC).  Frances Magarian was a long-time AAUW Long Beach Branch member and Past President.
The Long Beach Branch welcomes its members and members of the community to make a tax-deductible donation to either foundation managing the scholarship awards for us.  Contributions to our LBCC scholarship should be sent to Long Beach City College Foundation, 4901 E. Carson Street B12, Long Beach, CA 90808.  Please annotate that it is for the #4988 AAUW Long Beach Scholarship.  Contributions to our CSULB scholarship should be sent to CSULB 49er Foundation, 6300 E. State University Drive, Suite 324, Long Beach, CA 90815.  Please annotate that it is for K0320-AAUW Long Beach Scholarship.

The applicants submit applications containing among other information, their G.P.A., honors and awards they've received, an essay describing their goals and studies, and two letters of recommendation.  The students are then interviewed by the committee.  As always, the applicants this year were outstanding, and it was difficult to make the selection.
Although the Scholarship Committee was unable to interview applicants from Long Beach City College due to college restrictions, we were very impressed with the applicants and had difficulty making our selections.
Learn more about the Frances Magarian Scholarship HERE
2023 Scholarship Recipients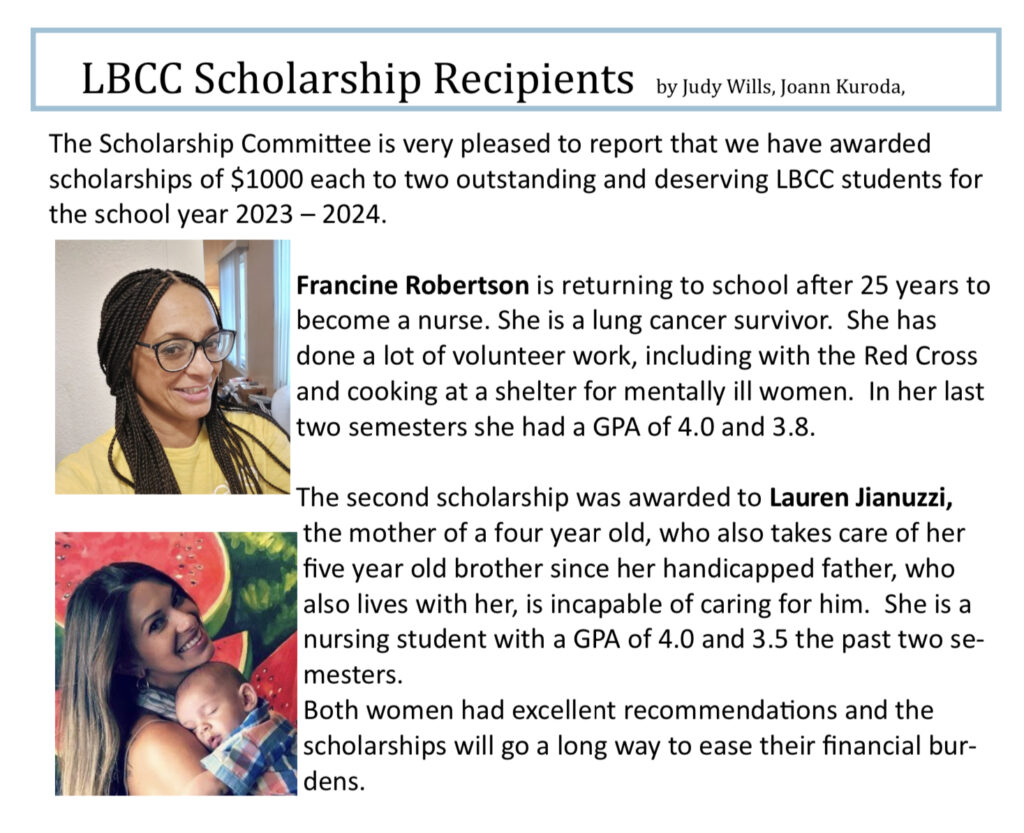 AAUW Long Beach Awards
Five 2022 Frances Magarian Scholarships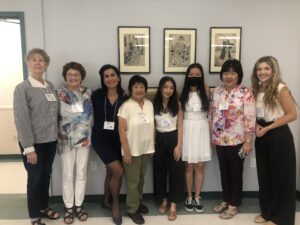 Smiles shone all around at a recent AAUW Long Beach Branch meeting when three CSULB students attended accepting a Frances Magarian Scholarship award of $2,500 each. This program established in 2013 fulfills the bequest intent of its namesake by giving two CSULB and two LBCC students aid in their education. This year an anonymous donor presented the branch with an additional scholarship for a third CSULB student. Long Beach City College students unable to attend, receiving $500 awards are:  LaQuandra Harris, majoring in Sociology and Psychology, and Tanya Fuentez, majoring in Administration of Justice.
A tradition of the Frances Magarian Scholarship program is to ask the scholars to speak about their background, majors, and goals for the future. Chloee Gong a Computer Science major, Alexxandra Hurtado a Molecular Cell Biology major, and Diana Than a Psychology major all expressed their appreciation to AAUW Long Beach for helping them with their education goals. The scholarship committee for 2022-23 includes branch members:  Mary Ann Takemoto, Chair–JoAnn Kuroda, Judy Willis, Darlene Daclan, Linda Westman and Sharon Westafer.
David Roman, with the Division of Student Affairs at CSULB, said they had 258 applicants for the Frances Magarian Scholarship and added that, "Your generosity provides significant financial support to deserving students that are committed to pursuing their academic and life goals."
The American Association of University Women has a long history of investing in higher education for women. AAUW nationally has one of the largest scholarship programs for women in the world giving $6M in fellowships and grants in this academic year of 2022-23.
The 2022 CSULB Recipients
Submitted by Mary Ann Takemoto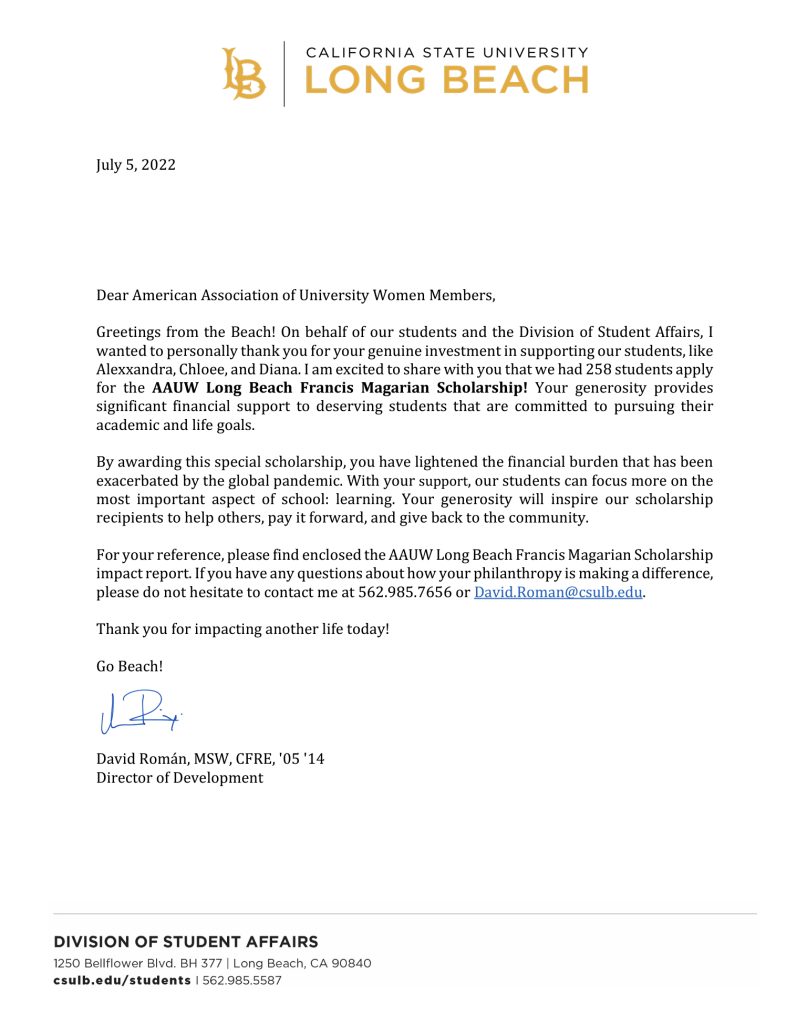 CSULB 2021 Recipients

Mya (Tamiya) Campbell is a third year Psychology major and transfer student from El Camino College.  She has been an active and involved student, serving as an intern at a Community Helpline, a research assistant to a faculty member doing research on sexual assault, and volunteering at her church.  She plans to go into the Counseling field and is especially interested in working with the African American Community.
Zoe Smith is a Mechanical Engineering major.  She serves as a mentor and a tutor to first year Engineering students.  She is involved with the National Society of Black Engineers and has interned with the Griffith Company, where she learned more about the civil construction industry.  Zoe is especially interested in recruiting and retaining high school girls and college women to the field of Engineering,
Both candidates talked about the importance of their sisters and mothers in their lives.
LBCC 2022 Recipients
Submitted by Sharon Westafer
Frances Magarian was a long-time member of the Long Beach branch who bequeathed money to the branch. A committee, currently comprised of Mary Ann Takemoto, JoAnn Kuroda, Judy Willis, Darlene Daclan, Linda Westman and Sharon Westafer, was formed and guidelines were written to award $500 scholarships to two Long Beach City College students and $1500 scholarships to two CSULB students. The students must have at least a 3.0 GPA and be attending the colleges during the term of their scholarship.
Due to Covid restrictions in place by LBCC, we were again unable to interview the applicants this year. We were provided with 7 applications, and based on the applicants' grade point average, essays and letters of recommendation and after careful consideration, the following recipients were chosen: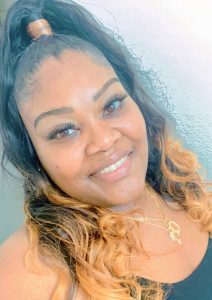 LaQuandra Harris a 31-year-old single parent with a 3.7 GPA. LaQuandra currently lives in a homeless shelter with her 11-year-old son and is determined to build a better life for him and herself. Her major is Sociology and Psychology. She feels that these majors give her flexibility to choose a career which will lead to advancing equity for women and girls of color by empowering them and helping them to explore opportunities for an education and success in life.
Tanya Fuentez helps to care for her mother while majoring in the Administration of Justice. She is 38 years old and worked in the legal field for 15 years before enrolling at LBCC. Once she completes her education, Tanya plans to work in community-based programs dealing with victim advocacy. Her GPA is 3.9 and she is currently on the Dean's list.
LBCC 2021 Recipients
Aneri Mody is majoring in Computer Science. She attended college in India but had to discontinue there as she and her family immigrated to Long Beach. She was unable to transfer the units from India as she could not afford the transfer fees. Aneri is an embedded tutor for a computer science class, and she enjoys mentoring others in her class.
Nicole White-Singh is a second year student at LBCC. She is a Computer Science and Engineering student with plans to transfer to UC Berkeley or Stanford University in 2022. She plans to eventually work as a civil servant software engineer at NASA. She is an Honors Student with a 4.0 GPA and currently works for NASA as a full-time software engineering intern. Nicole is a non-traditional student; she started studying again at the age of 25 and is a first-generation student college student.
Both Aneri and Nicole work hard in school, help to support their families and have been on the Dean s List with great distinction.