Chair: Mary Ann Takemoto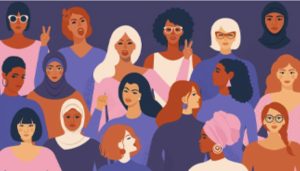 AAUW Long Beach fully supports AAUW's mission of  "advancing equity for women and girls through advocacy, education and research." The branch also fully supports AAUW's Diversity Statement:  "In principle and practice, AAUW values nd seeks a diverse membership. There shall be no barriers to full participation in this organization on the basis of gender, race, creed, age sexual orientation, national origin, or disability."
We also support AAUW's commitment to educate our members about Diversity, Equity and Inclusion (DEI). We invite you to explore AAUW's DEI Toolkit, including Key Terms and Concepts
From the toolkit:
"AAUW seeks to promote inclusion and awareness for all members to create an equitable, sustainable and inclusive membership reflective of today's world.
We recognize the need to attract and retain members and to celebrate the diversity that all individuals bring. Members of AAUW have long raised awareness through their impactful initiatives, programs and research.
AAUW is dedicated to helping members become more comfortable sharing their perspectives outside of diversity trainings and to address diversity, equity and inclusion (DEI) in all aspects of their work and lives. We seek to encourage ongoing dialogue that will inspire all members to bring these values to their personal and professional interactions. Within AAUW, our goal is to turn these conversations into actionable goals and strategies for each branch. We seek to help members understand how inclusion factors into every decision made in the branch and in their lives. AAUW hopes to bring inclusion to the workplace, including transparent advancement and opportunities for development.
The AAUW Diversity, Equity and Inclusion (DEI) resources aim to identify best practices for promoting diversity, equity and inclusion within AAUW. These resources present guidelines for how AAUW branches, national members, student members and individual members can demonstrate an understanding of AAUW's mission, values, goals and strategic plan. It is meant to start the inclusion conversation. We encourage all members to seek ways to incorporate inclusive practices into their branches and daily life."
The Year of the Rabbit
Happy Lunar New Year, 2023, as we usher in the Year of the Rabbit.  The Lunar New Year officially began on January 22nd, and is celebrated in many Asian communities around the world, as well as our local Asian American communities.  The Lunar New Year is traditionally a time to honor ancestors and celebrate with family.  It marks the end of winter and beginning of spring, and is a time of renewal and reflection as we begin a new year..
Diversity Branch Program
September 10, 2022
Dr. Sharifa Batts
We were thrilled to have our very own member, Dr. Sharifa Batts, serve as speaker for our meeting. Dr. Batts currently serves as Vice President of Safety and Environment at Ports America and oversees operations in the Port of Los Angeles and across the United States. She holds a Doctor of Business Administration degree from the Pepperdine Graziadio Business School.
A native of Long Beach, Dr. Batts has been very involved with the LBUSD schools and the Long Beach community for over 20 years. Promoting excellence and equity have been important themes in her professional and community work. Dr. Batts discussed how AAUW can evolve and become a more inclusive organization with intentional recruiting. She shared aspects of her research that relate to women's equity and our branch goals. View her presentation HERE.
October, 2022 Diversity Corner
Alyce LaViolette
October is a Big Month for Celebrating Diversity and the Acceptance of People and Circumstances that are Different from Our Own.
National Coming Out Day for the LGBTQ plus community and their allies is October 11. That day of celebration was inaugurated in 1988 by Robert Eichberg and Jean O'Leary, both pioneers and activists in the Gay Rights Movement.  October 11th was chosen because it was the first anniversary of the National March on Washington for Lesbian and Gay Rights. Here are a few AAUW National website links about sexual orientation and gender identity .
October is also Domestic Violence Awareness Month which was introduced in 1981 by the National Coalition Against Domestic Violence.  It was created to bring awareness and support to the approximately 10 million people (most are women but also include men and children) who become victims of domestic violence every year.  Domestic violence crosses racial, status, religious and cultural boundaries.  These movements were both about educating communities and bringing awareness to these violations of human rights…but also to connect victims of homophobia and intimate partner violence and their allies. AAUW's Public Policy supports "freedom from violence and fear of violence, including hate crimes, in homes,schools, workplaces and communities.
You can become an ally or advocate in many ways.  You can read books and articles, listen to speakers, podcasts, and TED Talks, and attend events that support these cause (you can check the Internet or call these local organizations – The Center, WomenShelter, Interval House or
Rainbow Shelter for information and local events).  You can have discussions about these issues.  You can become involved as a volunteer.  You can use your voice in the upcoming election on Tuesday November 8, 2022, to protect human rights.
With the help of the Diversity, Equity and Inclusion (DEI) Committee, the Branch maintains helpful information and numerous resources for our Branch members to refer to in creating a welcoming environment for members and the community.
Lastly, please tell your like-minded friends, co-workers and family members about our terrific programs related to diversity, equity and inclusion this year! You can share your newsletter, the website links, and invite them to hear a program or attend an event. They might even join! Imagine the gifts they'll bring to enhance the advocacy of the Branch!
September, 2022 Diversity Corner
National AAUW has stated that diversity is critical to the mission and future growth of AAUW.  In alignment with the AAUW National focus on DEI, our branch DEI Committee was established in 2020 under co-presidents Jeane Caveness and Stelet Kim. The goal of the committee is to examine our branch progress in the areas of recruitment, retention and programming as it relates to diversity, as well as move DEI initiatives forward.
The DEI Committee launched a membership survey in 2020 to look at our demographic makeup and identify groups underrepresented in the branch.  Over the past year, we worked with the Membership Committee to establish goals of increasing women of color and younger women to the branch.  The DEI Committee partnered with the Programs Committee to include diversity topics in branch programs such as LGBTQ+ issues and unconscious bias.  We will continue to include diversity topics in our programs this year, as well as have icebreakers at our meetings for members to get to know each other better.  We have been discussing ways to create a welcoming and inclusive environment for all, especially our new members.
The DEI Committee meets monthly on the third or fourth Saturday of the month.  We welcome additional committee members. Please let Mary Ann Takemoto know if you are interested in joining the committee or have suggestions.
AAUW Long Beach Branch Statement on
Violence Against AAPIs
From Branch Board of Directors and
Diversity & Inclusion Committee
March 25, 2021
AAUW Long Beach strongly condemns acts of xenophobic hate and violence against the Asian American and Pacific Islander (AAPI) community. As an organization that fights for social justice and equity, we cannot ignore the rising tide of violence against AAPI individuals during the COVID-19 pandemic which has largely been overlooked until recent headlines.
We join in collective grief, sadness and loss over the most recent tragedy in Georgia, the mass shootings of March 17, 2021. The fact that six of the eight who were killed were women of Asian descent requires that the intersection of race and gender be called out in these vile, targeted acts. Gendered racism is perpetuated due to the prevalence of stereotypes, perceptions and images of AAPI women which has resulted in a long history of misogyny and violence directed specifically at Asian women by men of all races.
The harassment, discrimination and violence against AAPI individuals has been well-documented. In the past year alone, there has been a significant increase in the number of hate crimes against AAPIs as documented by STOP AAPI Hate. Sadly, California leads the nation in the number of hate crimes against AAPIs, and women reported more than twice as many incidents as men.
We acknowledge the current reality of systemic racism and anti-Asian violence and vow to ensure that our organization is a welcoming and inclusive space for all.
We will continue to educate members about bias and promote awareness of anti-Asian discrimination, racism, and violence against Asian Americans.
We must hold each other accountable and intervene, whenever possible, when we observe acts of discrimination and racism against Asian Americans.
We call upon our legislators to take action against racism, harassment and discrimination.
We call for full prosecution of hate crimes.
We call for the recognition of the intersectionality of race and gender in the Atlanta murders.
We affirm that we are all partners in this together. Progress in social justice must include partnerships with other communities of color and the white community to advocate for actions, solutions, and healing.