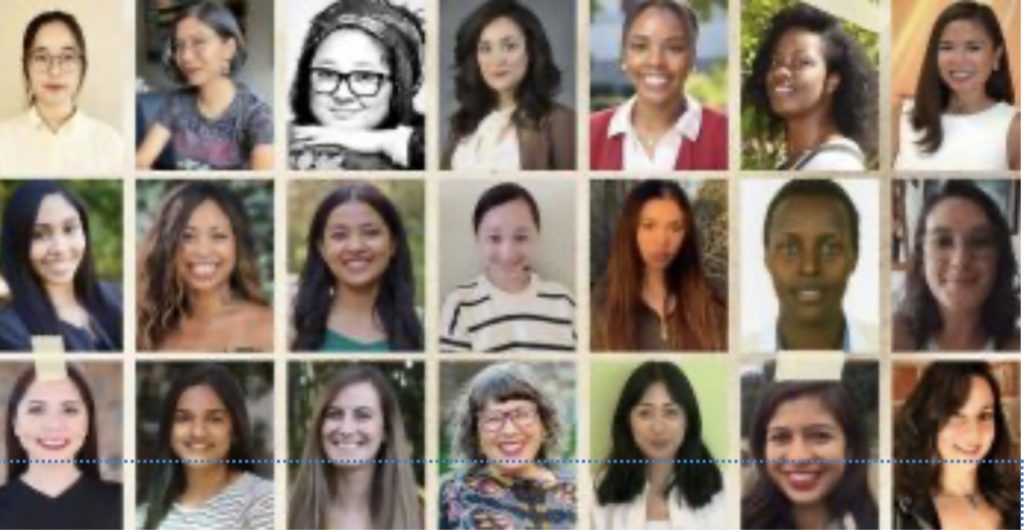 39 inspiring California fellow and grant recipients shared nuggets of their fascinating studies at four fall AAUW Fund 202w virtual events  Watch their presentations HERE
AAUW is a 501(c)3.  Donations to the AAUW Fund Support many programs, including Fellowships and Grants. AAUW has awarded over $115 million in fellowships and grants to more than 13,000 scholars and organizations in 50 states, Washington, D.C., Puerto Rico and Guam and 150 countries, one of the largest scholarship programs for women in the world.  Only the interest from the Endowments are used to fund recipients, thus, the interest from several endowments are combined to sponsor Fellowships and Grants.
Information about applying for an AAUW Fellowship or Grant can be found HERE
As you  can see from the diagram above, supporting AAUW's Mission can be done by contributing to the Greatest Needs Fund (preferred) or to the Education and Training Fund (4450), Economic Security Fund (4449). the Leadership Fund (4452), or to sub-funds within 4450, 4449 (i.e., Legal Advocacy Fund #3999) or 4452.  There are also other categories.
At the present time, AAUW is encouraging donors to donate to the AAUW Greatest Needs Fund #9110.  To find out how you can support AAUW's Mission, please email aauwlongbeach@gmail.com
One may also contribute online HERE to support AAUW's Mission.  For questions about giving to a special fund at AAUW, please call 800.326.2289.
Learn more HERE about recipients who have received Fellowships and Grants that were partially funded by AAUW Long Beach Endowments
Learn HERE about how the "AAUW LEGAL ADVOCACY FUND" PROTECTS  the rights of women and girls, FIGHTS FOR Pay Equity and AGAINST Sexual Harassment and Discrimination in the workplace, schools and universities.

Learn HERE about AAUW's History of Funding Women.
Most of us contribute to the AAUW Fund yearly. We are proud of the Fellowships AAUW awards and by contributing to the Greatest Needs Fund, we know we are helping AAUW's mission.  The Legacy Circle enables you to keep contributing to AAUW after your death. Become a beloved visionary who is committed to advancing equity for women and girls long into the future.
Some members think they need to have a healthy bank account in order to become a Legacy Circle member. The answer is, no, you do not need to be well off to be a Legacy Circle member! A Legacy gift is not something you give during your life-time- it is given by your estate. There are many ways to leave a gift, including making AAUW a beneficiary on an insurance policy or annuity, donating a set sum or a percentage of your estate, creating a charitable gift annuity, or even creating a COD account at your bank (You deposit money now, either one time, or several deposits, and it is payable to AAUW upon your death). Knowing that we are a part of helping secure the future of AAUW, an organization that we have contributed our time and talents makes us feel proud.
The top three motivations that AAUW donors cite for making a planned gift are the importance of AAUW's mission; the belief that AAUW makes a significant impact; and the ability to make a larger gift through an estate gift than is normally possible during the donor's lifetime.
There is no minimum gift requirement to join the Legacy Circle, and the benefits are many. For example:
Planned gifts afford you flexibility to provide for your family and support AAUW.
Certain planned gifts may reduce estate or capital gains taxes.
Planned gifts need not affect your cash flow during your lifetime.
Certain types of planned gifts allow you to support AAUW while also providing income for the rest of your life — or a fixed income for a loved one.
The joy of knowing that your legacy gift will sustain AAUW's programs for years to come is the ultimate benefit!
To learn more about the benefits of planned giving, please contact Judy Horan and Charmen Goehring, of the AAUW Legacy Circle Team, or by contacting Tobi.
SPOTLIGHT  ON SUELY SARO
Sixth District Long Beach Councilwoman
2008-2009 AAUW CAREER DEVELOPMENT RECIPIENT
Career Development Grants
Name: Suely Ngouy Saro
Award Year: 2008-09
Award: Career Development Grant
Institution: California State University, Long Beach
Location: El Monte, California
Discipline: Public administration
Degree and Specialization: M.A., Public administration
Partially funded by AAUW Long Beach Ethel Black Research & Projects Endowment (#1835)
In 2008 Suely Ngouy Saro  was the executive director of Khmer Girls in Action, a young women's organization. At that time she held a bachelor's degree in molecular, cellular, and developmental biology and was pursuing her master's degree in public administration to strengthen her role in encouraging young women to be agents of social, economic, and political change.