2023-2024
General Meetings:
November 4, 2023 Branch Meeting
Program: Post COVID Mental Health
Amy La, Ph.D., MBA
Click for Videos of Meeting and Program
Click HERE for PDF of Presentation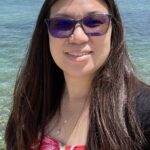 It is hard to imagine that it has been over 3 years since the worldwide COVID pandemic started in 2020. A new normalcy started and most of us have resumed our lives in one way or another. We have lost loved ones and more during this journey. Approximately two-thirds of women stated that their stress and/or anxiety increased during the pandemic according to the U.S. News & World Report (April 2022). Thinking about how you and yours got through the pandemic, let us come together and share coping strategies to maintain or improve your well being. One thing we learned is how resilient we can be, as a community, particularly the wonderful women that makes up this organization.
Dr. La is a licensed psychologist with over 15 years of clinical experience in mental health.  She is also co-President of the AAUW Long Beach Branch.  In addition to being a Ph.D. in Counseling Psychology, she also has an MBA in Healthcare Management. Her clinical experiences in the field includes working with college students and adults across the lifespan in the community. She previously worked in a group practice and various colleges. She is currently in private practice and her office is in Cerritos, CA. Outside of work, Dr. La enjoys spending time with her family and traveling.
October 7, 2023 Branch Meeting and Program
Program: Alyce LaViolette: Perpetrators of Violence in Intimate Relationships
Click HERE for Video of Meeting and Program
Reasons for violent behavior and the reasons to hope it can change were explored.. Alyce told stories of some of the people she works with. Although most of the perpetrators of domestic violence are male, she has also worked with females who are abusive. She spoke about her own experiences doing this work and the rationale for the way she does her program. She welcomed questions and comments.
Ms. LaViolette has worked with victims of intimate partner violence since 1978. In 1979, she founded one of the first programs in the country to work with abusive partners as a program of WomenShelter of Long Beach.  In 1984 she went into private practice in Long Beach and in West Los Angeles with a specialty in domestic violence and with high-conflict couples and gender issues.  She has a broad-based private practice.  Alyce speaks nationally and internationally and has served on the Speaker's Bureau for the U.S. Department of State.  She has developed programs for the Probation Dept. in California and Los Angeles County and for the Department of Children and Family Services for Los Angeles and Orange Counties.  Alyce has served as an expert witness in criminal, family and civil court since 1984.  She appears on local and national television and radio and has co-authored one of Sage Publication's best-selling books "It Could Happen to Anyone: Why Battered Women Stay". She has a B.A. in Psychology, and M.S. in Community-Clinical Psychology and is a Licensed Marriage/Family Therapist.  She also has a lifetime teaching certificate for Community Colleges.

September 9, 2023:  AAUW Long Beach Scholarship Recipients and Presentation by Afghan Women (LINK to presentation)

Afghan Women – Introduction
It has been two years since our government's withdrawal from Afghanistan and the Taliban takeover. In August 2021 Masoma, Reema and Hameeda, graduate students in a master's program in agronomy at the University of Kabul, were evacuated together with their 12 classmates, other students and faculty of Michigan State University's Grain Research and Innovation project (GRAIN).
They were at risk from the Taliban for being in this USAID sponsored program. Further risk factors for Masoma were belonging to the Hazara minority group that is the target of violence and also worked for a European bank in Kabul. All three women were endangered because family members worked in the Afghan government. (After the women arrived, we learned that Masoma and Hameeda are married; their husbands in Germany studying & working.)
Initially they were flown to Albania where GRAIN program was restructured at the Agricultural University of Tirana. After 7 months they came to the US in March 2022 on Humanitarian Parole, arriving in Long Beach in April. Supported by a Welcome Circle sponsored by NCJW Long Beach they were connected with resources and services including housing, government benefits, medical care, legal representation, and employment. They completed the graduate program with online classes and in September graduated with a Professional Master's in Advanced Techniques in Horticulture.
The women have faced many challenges adjusting to life in a new culture, improving their English and applying for asylum.  They completed paid Internships with A Growing Experience, an urban farm in North Long Beach, and worked in other part time jobs.
Masoma, Reema and Hameeda hoped that their education and experience will lead them to fulfilling careers where they can make a difference – like farming, organic food certification, food science, hunger nonprofits, water science, landscaping, or aquafarming.
They miss their families in Afghanistan terribly and worry about their safety. The economic situation is dire, girls and women are denied education and work, fathers & adult siblings have been dismissed from their jobs. Family members continue to be threatened and some are in hiding. As the situation in Afghanistan worsens, Hameeda, Reema and Masoma have written congress members, to remind them to seek assistance for those left behind.
Over a year after coming to our community, the women have transitioned from the support of the NCJW Welcome Circle, are living on their own and working. Until asylum is granted, their futures remain uncertain. Hameeda and Masoma had their asylum interviews in December & Reema in April. They are waiting for the asylum decisions which have not come within the promised 6 months. Masoma's husband was visiting when her asylum interview was scheduled; her interviewer surprised us all by adding him to her case. He is now waiting for Employment Authorization so that he can work. We hope that they will be granted asylum soon and they can move forward with their lives and contribute to our community.
2022 – 2023
Schedule of 2022 – 2023 AAUW Long Beach Branch Hybrid Zoom Meetings at Long Beach City College (Except as noted*) Saturdays, 9:30 a.m. Social Time, 10:00 a.m. Business Meeting.  Topics are subject to change.
September 10, 2022 – Presentation: Dr. Sharifa Batts: (her research about women on boards of directors, and will also speak about the importance of  diversity, equity and inclusion [DEI] ); Introduction of Frances Magarian Scholarship Recipients
Sharifa Batts PowerPoint
October 1, 2022 – Presentation by Nancy Mahr (AAUW and LWV) CA Ballot Propositions (including AAUW CA positions); and LBUSD Transgender Policy Re: Title IX and transgender issues
Meeting & Program Recording
November 5, 2022 –Intimate Partner Violence;  AAUW Fund appeal
Meeting & Program Recording
*December 3, 2022 – Holiday Celebration at member's home TBD
January 7, 2022 – Tech Trek and STEM issues
February 4, 2023 – Reena Hajat Carroll, the Executive Director for the California Conference for Equality and Justice (CCEJ)
Program Audio Recording
March 4, 2023 – Patsy Takemoto Mink: First Woman of Color in Congress
 Meeting & Program Link
April 1, 2023 – Annual Branch Meeting/Board Election  & Guest Speaker, Renee Roberts-Nijinsky
May 6, 2023 – Garden Party at  Janice Furman's home, from 10:00 a.m. to Noon. 
June 3, 2023 – Installation, President's Recognition, Recognition of a Very Special 50 Year Member; Named Gift Honoree and Connie Inskeep Leadership Award Recipient.
June 10, 2023 – Author's Event:  An Afternoon With Lisa See, 1:00 p.m. to 4:00 p.m. Location – LBCC.  Auction and other details to be provided.To see more of past events, click here.
JUNE 10, 2023:  A Tantalizing Tea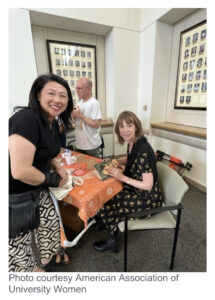 Thank you to Lisa See and all of the amazing branch members and guests who made this event a fantastic success!!  The author's event and tea luncheon on the Long Beach City College Liberal Arts Campus raised $10,000 for the American Association of University Women Long Beach Branch Frances Magarian Scholarship Fund.
A Tantalizing Tea, on June 10, featured award-winning novelist Lisa See, who is known for authoring "On Gold Mountain," "Lady Tan's Circle of Women," "Shanghai Girls" and more. The event gathered 140 guests, who placed bids in a silent auction that went toward the scholarship fund.
The AAUW Long Beach scholarship was established in 2013. Since then, four scholarships have been granted each year — two Cal State Long Beach students get $2,500 each and two LBCC students receive $500 each.
May 6, 2023 Annual Garden Party Membership Event
The Long Beach Branch Annual Garden Party was a great opportunity to "mix and mingle" with current members and guests. Co-President Denise Montoya welcomed members and guests and congratulated Long Beach Branch member Sharon Westafer on being named 2022-2023 AAUW CA Named Gift Honoree.  Sharon is a long term member of AAUW and has been dedicated to the AAUW Fund, holds and has held many AAUW leadership positions, and is a member of multiple branches.  Branch activities announcements were made.  Members got to know newer members better and several guests joined the branch,.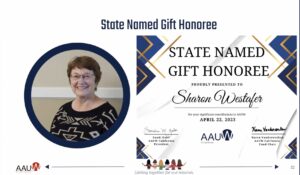 April 1, 2023 Program
Guest Speaker, Renee Roberts-Nijinsky 

Although she describes herself as "ordinary, despite life challenges: prematurity and cerebral Palsy, Ms Roberts-Nijinsky has not only survived, but thrived. She served as an elementary school teacher, part-time Special Education teacher  and is a passionate Dragon Boar paddler and coach. She spoke about her inspirational life.
March 4, 2023 Program
Patsy Takemoto Mink: First Woman of Color in Congress

We were delighted to have an outstanding program for our March meeting.  Dr. Judy Wu  joined us and her presentation was entitled Patsy Takemoto Mink: First Woman of Color in Congress.
Mink, a third generation Japanese American from Hawaii, is the namesake for Title IX, the legislation that is celebrating its 50th anniversary and mandates gender equity for schools that receive federal funding.  Join us to explore how Mink's long political career over the course of the second half of the 20th century reveals new insights into the history and meaning of feminism.
Dr. Judy Wu is a professor of History and Asian American Studies at UC Irvine.  She serves as Associate Dean in the School of Humanities and Director of the newly created Center for Liberation, Anti-Racism and Belonging.  She is the author of Fierce and Fearless – Patsy Takemoto Mink: First Woman of Color in Congress.
February 4, 2023 Meeting
The February program, continued our work in the area of Diversity, Equity and Inclusion (DEI) with a presentation by Reena Hajat Carroll, the Executive Director for the California Conference for Equality and Justice (CCEJ). Reena spoke about bias and identity and the important work CCEJ does with young people in cross-racial groups. Her work is based on the premise that there are many opportunities to address injustice in our daily lives, and we can all learn to challenge racism, prejudice and discrimination.
Reena has over 14 years of experience in the DEI field. She has trained countless individuals on the importance of using dialogue to understand different perspectives. CCEJ has had an important presence in Long Beach for over 60 years. Their mission is to eliminate bias, bigotry and racism through education, training and advocacy for youth and adults in Long Beach and surrounding communities